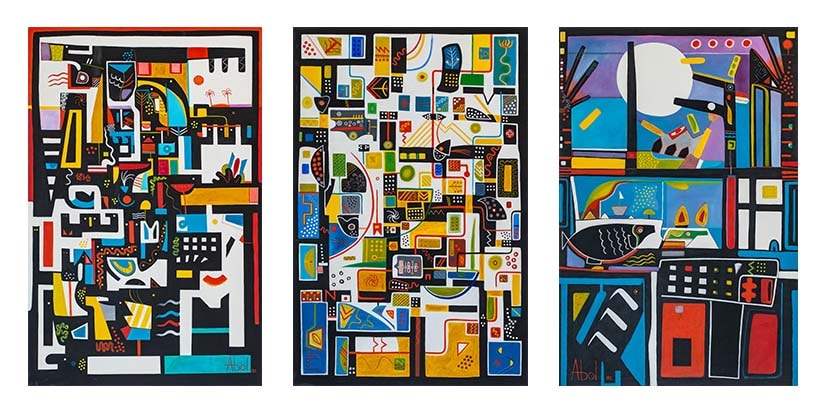 Abol invites Persian culture to post-modern art
For the very first time, the artist Abol Atighetchi will exhibit his 12 unpublished paintings from 1983 to 1992 at the Oblong Contemporary Gallery in Dubai, United Arab Emirates. The exhibition covers Atighetchi's works over more than 31 years, from 1991 to 2022. Along with his first paintings, "The Iroquois", "Rainbow Warrior" and "Squares", he includes calligraphy and presents his approach and his recent appreciation of minimalism.
Abol Atighetchi's art shows his journey around the world. Moving from Iran to the United States, France and back to Iran, the Persian artist depicts his interpretation of different cultures, including his vision of ancient populations of North and South America to African tribes, from Papua New Guinea and the Far East.
Atighetchi explored figurative painting for years and in 1996 drew inspiration from his Persian roots and the works of the poet Rumi to delve into calligraphy and incorporate Persian culture into his work. The artist combines large-scale colors and deep compositions while constantly incorporating lines, dots and decorative elements.
HYPEBEAST talks to the Iranian artist about his early styles, transitions, and future plans. Read on to learn more about Abol Atighetchi and his artistic approach.
What inspired you to explore art and move from figurative painting to calligraphy and now to minimalism?
I started with figurative paintings and a friend of mine in France suggested that I participate in auctions in Paris. I participated, sent three paintings and sold all three. From there, a gallery owner bought me 10 paintings every year and that's how I started.
"I have strong roots and I am attached to Iran so I wanted to introduce my culture into my paintings."
I continued to paint and sell and after 10 years in France, I returned to Iran. I've always loved calligraphy because of the lines – I've used lines in a lot of my work. So, I started to get interested in it and to understand the movement of the pen. I never went to school to study calligraphy because I didn't want them to teach me the technique, I wanted to do it my way.
My first calligraphy paintings weren't so good. It took about three years before I was able to seriously perform it. I started with Thuluth and Naskh and transitioned to Nastaligh and eventually developed my own style.
"I don't explore my own style to be different or to stand out, I just do what makes me happy."
Your most recent approach is minimalism. How was this transition?
It is difficult. Minimalism is really hard. You can't use too much detail and you've explained the most using the least. It's a challenge, but I know I will succeed.
I don't think I'll explore another style after minimalism because it's such a big field that it will take me the rest of my life. I did everything I wanted – calligraphy, post-modernism, figurative and the last step is minimalism.
Abol Atighetchi's art is on display at the Oblong Contemporary Art Gallery in Bluewaters, Dubai, United Arab Emirates until May 30 this year.
To discover more artists from the region, Abu Dhabi Art is taking artists to Palazzo Franchetti for the first time.