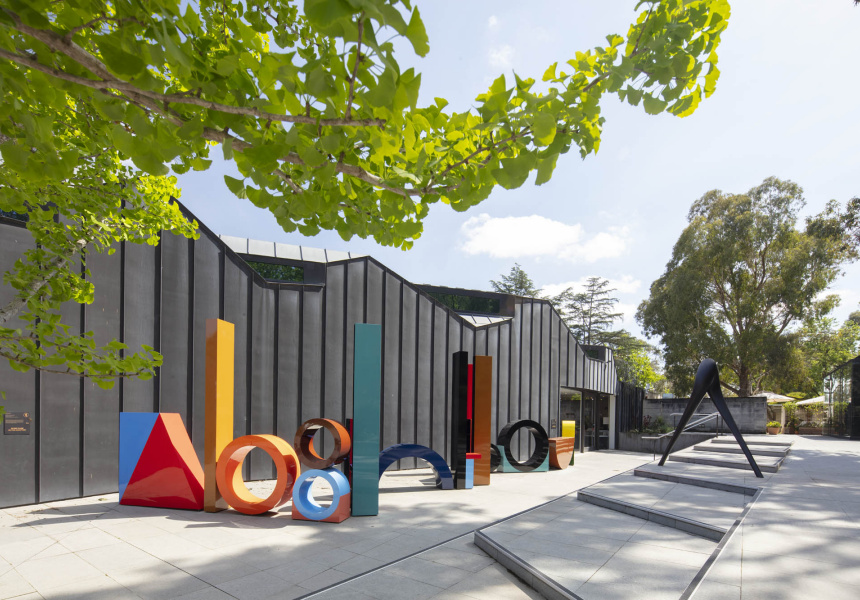 Forty Years of Heide Museum of Modern Art
In 2021, the Heide Museum of Modern Art, Melbourne's beloved art institution, turns 40. An important milestone that deserves to be celebrated.
"This is a great opportunity for the museum to reflect on what has happened since our opening in 1981," says Lesley Harding, artistic director of Heide. "Milestone birthdays are like that – it's a point in time where you can both reflect on what happened and recalibrate and think about what's to come next."
Over the years, it has had "fantastic and groundbreaking exhibitions," says Harding, featuring historic artists like Louise Bourgeois, Georgia O'Keeffe, Joy Hester, Mirka Mora and Charles Blackman as well as contemporary practitioners like Natasha Johns. Messenger, Robert Owen, Kathy Temin and Emily Floyd. But despite this illustrious back-catalog, it remains very focused on the future. "I'm excited about Heide's future and the prospect of redeveloping the museum to truly bring us into the 21st century in terms of exhibition spaces and ambitions for our program," she says.
Heide's planned birthday celebrations have been sidelined by the pandemic, with lockdowns delaying a series of exhibitions marking the anniversary: Sidney Nolan: In Search of Heaven and Dean Cross: Sometimes I miss the applause, both scheduled to open in 2022, and House of ideas: Cynthia Reed's studio, which opened on November 6. [through to] a contemporary reflection on Nolan's contributions to Australian modernism through the eyes of an indigenous artist, "says Harding.
Covid-19 led to "a few difficult years" for Heide, Harding acknowledges, as the programs are scheduled for up to three years. "All the museums have been in the same boat. Dealing with the uncertainty is the hard part, "she says.
However, the lockdown period has given some bright spots, in particular "time to reflect on where the museum is now, how we can do things better and what the next five to ten years will look like for us", she says.
"[We learned that] museums can be spontaneous, flexible and responsive when needed. It has also generated a great sense of collegiality within the artistic community… and new partnerships and ideas. "
One of these new ideas is Heide editions, a series of limited edition works of art and objects created by artists to celebrate the institution's milestone anniversary, with a view to becoming an ongoing program. Heide editions was a "lockdown project" which, according to Harding, started out as "the seed of an idea that I had been thinking about implementing for some time."
"Artist's editions are something that has always interested me… [they serve] as an entry level in the art collection market. It's also a way for us to extend the experience of seeing an exhibition in Heide, "she explains. When the pandemic turned normal life upside down, she said it seemed like "the right time" to make the idea a reality.
Harding invited artists and designers who have a connection to Heide to "create something to help us celebrate Heide's birthday that responds to Heide's story … or their personal experience of Heide." Harding compare Heide editions to buy a 40th birthday present for a loved one – but backwards. "I wanted people to buy something that would support the museum which would also mark Heide's 40th birthday," she says.
Dean Cross, a visual artist, choreographer and performer with Worimi heritage, created a double portrait of Sidney Nolan and Sunday Reed for Heide editions. "He picked up a leaf from the beautiful oak tree that John Reed planted behind the original Heide cabin," says Harding. Using both sides of the sheet, he produced "a symbolic work of art" which, according to Harding, straddles Heide's past and present moment.
Glenn Barkley left his position as senior curator at the Museum of Contemporary Art in Sydney to pursue his love of ceramics. For Heide editions, Barkley produced Lockdown 2021 soap dish, 40 unique ceramic vessels created in its inimitable, highly textured style. Barkley has a long association with Heide. "Glenn has co-hosted three exhibitions with me since 2012 and curated and exhibited a fourth," says Harding. "He has a very deep bond with Heide. He knows the place intimately having worked with us for many years, on many projects.
Melanie Katsalidis is a Melbourne-based jeweler who often visited Heide as a child with her architect father. "We are very tied to Heide's story," says Harding. "She loves to visit and thinks it's one of the most special places in Melbourne."
Harding asked Katsalidis to design a piece that was "inherently Heide". In response, Katsalidis created a series of opal pendants inspired by three of the strong and singular women associated with the museum. "Mel is very interested in Australian opals and has made an effort to collect them discreetly away from the kitsch tourist market," said Harding.
Katsalidis' offer includes Sunday pendant, inspired by the founder of the Sunday Reed Museum; the Cynthia pendant, celebrating Cynthia Reed Nolan's contribution to Australian art; and the Mirka pendant, in honor of the achievements of the artist Mirka Mora. Mirka is a figure "we all know and love," says Harding, who – along with colleague Kendrah Morgan – co-authored the book, Mirka & Georges: a culinary affair. "It's not just a Melbourne institution, but it has a strong connection to Heide. We have worked closely with Mirka over the years, "says Harding.
In early 2021, Georgie and Alex Cleary, the sibling duo behind Melbourne label Alpha60, collaborated with contemporary visual artist Patricia Piccinini under Heide's auspices to create a stunning series of limited edition jacquard blankets featuring featured three of Piccinini's striking works of art.
"They were looking forward to working with us again, and us with them," says Harding of the Cleary siblings. "They too love the architecture, atmosphere and simple palette of Heide Modern. The designers came up with a multitude of ideas, explains Harding, "but we opted for a scarf using images of our beautiful Modernist building."
The finished product is Heide Modern Scarf Stairs, a woven jacquard scarf inspired by the steps of the museum, the favorite part of the creators of the space. Georgie, who got married in the gardens, says "Heide is a magical place for us".
To buy Heide editions from the Heide store.
Broadsheet is a proud media partner of Heide.