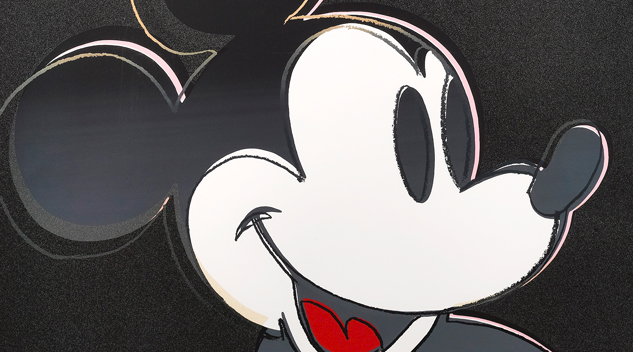 Modern art dominates the American and international sale of Pook
Review by Madelia Hickman Ring, Photos courtesy of Pook & Pook
DOWNTOWN, PENN. – Modernism dominated US and international sales of Pook & Pook on September 30 and October 1, when an Andy Warhol print of Mickey Mouse and bronze sculptural works by Harriet Whitney Frishmuth, Elie Nadelman and Paul Manship swept through classification. They joined good results for tall clocks, weathervanes and painted furniture set on the first day of the auction. The auctions took place online, by telephone, and by correspondence and in person calls for tenders. More than 5,600 bidders registered for the sale, from 39 countries on five continents. Of the 1,068 lots offered, over 98% successfully traded hands and the sale exceeded its high estimate when it totaled $ 3,538,163.
We caught up with Jamie Shearer after the sale to share his thoughts on how the sale went. "WOW – what a solid sale! Expectations were exceeded at regular intervals during the two days. There have been strong auctions online as well as an overwhelming number of anxious and determined bidders over the phone.
Fireworks erupted throughout the sale, but the biggest bang was made on the second day of the sale, when a color and diamond dust silkscreen print of Mickey Mouse by Andy Warhol (American, 1928-1987) brought in $ 196,800 from an international buyer's telephone bid. Numbered 147 out of an edition of 200, it was made for Warhol's "Myths" series, a group of ten twentieth-century pop culture images of celebrities who, according to Warhol, replaced the gods and heroes of previous generations. .
The second highest prize in the sale was won by Harriet Whitney Frishmuth (American, 1880-1980) "Crest of the Wave", which generated a lot of interest at $ 147,600. Described in the catalog as one of his most iconic works, the copy on offer was actual size and measured 64½ inches; it had been acquired from the New York gallery, James Graham & Sons, in 2006. It was sold to a professional buyer in New York, bidding on Pook & Pook for the first time.
"Man's Head" by Elie Nadelman (American, 1882-1946) was stamped F. Costenoble Fondeur Paris and had been exhibited at the Whitney Museum of American Art in 1975. A professional buyer from New York, bidding by telephone, completed the whole. at $ 116,850.
The Lifetime Collection of Charles West Wilson's Estate of Red Lion, Penn., Provided several American furniture and clocks, many bringing in the best prices on day one. Topping the results was a pagoda-encrusted mahogany federal musical clock from Charles West Wilson's estate of Red Lion, Penn. Made circa 1790 with an inlaid eagle surmounting a case housing works by New York clockmaker Effingham Embree, it flew for $ 92,250, going to a private collector in Pennsylvania, bidding on the phone, for more than three times. its high estimate.
Winning $ 59,040 from an online auction Pennsylvania collector, a Chester County, Pa., Walnut blanket box with line and berry inlay was the highlight among regional furniture.
A rare copper butterfly weather vane ($ 56,580), a wingspan sculpted eagle with Wilhelm Schimmel ($ 29,520) and a Lancaster, Penn., Painted bandage, attributed to Jonas or Jacob Weber ($ 17,220), were a few- a few of the additional folk art lots which brought notably high prices.
The prices indicated include the buyer's premium,
Pook & Pook's next Americana & International sale will take place in mid-January.
For information, 610-269-4040 or www.pookandpook.com.