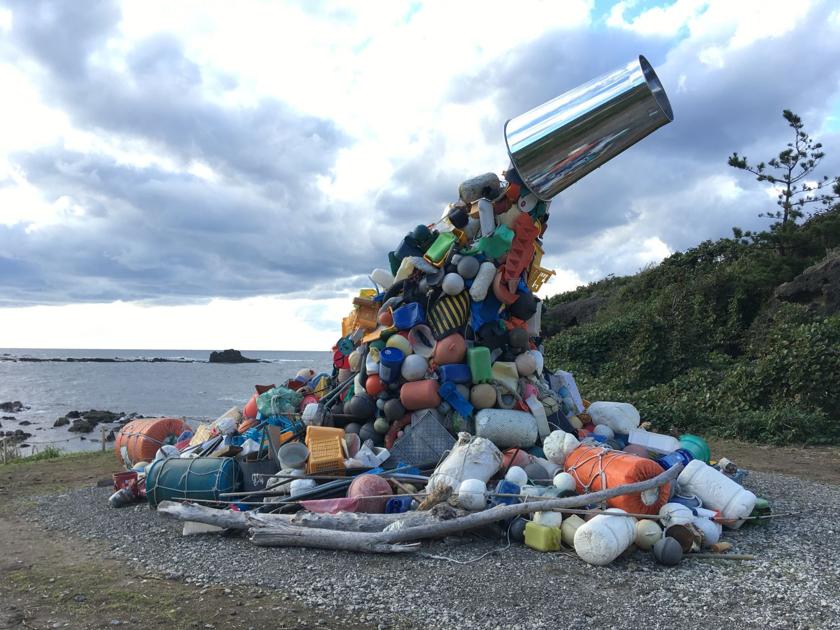 Modern art in rural Japan | Characteristics
Today I am your correspondent for art festivals abroad, I am submitting my report via smartphone.
Before I get to the festival, let me say that I always wanted to write an article entirely on my phone, like I do now, mostly to upset those people who despise us, phone junkies.
Next time you see me with my face buried in my device with my thumbs spreading my fingers just remember I might be doing something other than playing Candy Crush even though I will probably just be playing Candy Crush .
But about the art festival. I live in Ishikawa Prefecture, the northern part of which is a peninsula called Noto. I wrote in March (I was still writing on computers at that time) about a cycling trip I took around the coast of Noto, and you might remember the area is quite rural and sparsely populated.
One thing rural areas of Japan love to do is organize events that attract tourism. Noto's main draw is the week-long Oku-Noto Triennial, an event held every three years in which dozens of insane art installations appear in the otherwise sleepy countryside.
My wife and I find ourselves this weekend (October 22-24) crisscrossing Noto, admiring as many of these bizarre sites as possible. Phone always at hand, I will document them as I go.
Highlights for Friday, October 22
'Breathe: Suzu' from Kimsooja (Korea)
These are three huge mirrors in a grassy area, all facing the Sea of ​​Japan. Each is the size of a truck, reflecting you and the sea behind you to the scale of a small billboard. The selfie opportunities are obvious.
"Think of me" by Gupta Subodh (India)
This is a sculpture of a metal trash can floating about 20 feet in the air, dumping an incredible amount of trash onto the beach. The support structure is completely hidden in the waste shedding. The message is a little easier to see.
'Autonomo' by Carsten Nicolai (Germany)
A huge room in an abandoned elementary school (abandoned buildings will soon become a motif) has been painted white, and large circular sheets of metal hang from the ceiling.
A throwing machine hidden in plain sight throws black tennis balls randomly around the room, hitting metal and making loud gong sounds.
Saturday 23 October
'Kinoura, Kinora' by Hasunuma Masahiro (Japan)
The artist has produced several flipbooks, but on a scale never before conceived by the ordinary bored student. These flipbooks deploy along the edge of a wheel which is turned by a crank. Instead of using your thumb to resist, there is a metal tab placed just like that, holding the edge of the pages. Crank the crank and you power up the greatest flipbook show you've ever seen.
'Bright House' by Nakashima Kayako (Japan)
A small, abandoned, two-story office building that was dug inside. Thousands and thousands of holes were drilled through the walls and ceiling to the outside, and clear acrylic cylinders were inserted into each space. Sunlight is shining brightly through it all, so dots are shining like the galaxy inside that dark old place.
'Black Cloud House' by Carlos Amorrares (Mexico)
The artist (and a few assistants, I hope) made 23,000 black origami butterflies. These are affixed inside an old but well maintained house. If you've ever wondered what it would be like to have 23,000 black butterflies covering every inch of your living space, this exhibit is for you. In fact very beautiful.
Sunday October 24
'working with # 8' by Imao Takuma (Japan)
Imao is a student from Tokyo, and he was entrusted with the management of a now empty Noto library. His plan was to build liners for each vent in the place and incorporate wind instruments into them, so that all air passing through the heating system escapes through mounted racks of harmonicas and flutes. with beak. The place gives off a constant flute tone, which is hilarious and terrifying.
"Small museum of the lost article" by Kawaguchi Tatsuo (Japan)
The place is a small station that has now disappeared, and the area where passengers would have sat and waited in the past is now covered with the spray-painted yellow outlines of objects that may have been left behind. On a bench, the yellow overspray image of a shoe. Against the wall, the yellow ghost of an umbrella. A yellow imprint on the counter. There are dozens of these outlines in the resort. But what's behind the teller's window, piled up on a shelf? Each lost glove, watch and cane, all painted entirely yellow. The story he tells me is about the worst lost and found system ever. Hope it was meant to be funny, because I really enjoyed it.
"Token" by Raqs Media Collective (India)
Another small old train station. The artists constructed an exact 1: 1 replica of the station's skeleton and placed it at an odd angle from the top of the original station. The frame of the airborne skeleton is lined with blue fluorescent tube lighting, so at night it seems remarkable that the old station gives up the ghost.
Noto, like all of rural Japan, is suffering the worst of the country's population decline. The cities are carried by students and job seekers, but the countryside is gradually emptying of its inhabitants.
I admire Noto for making the most of his population woes. What do they need? People and money. What do they have? Lots of empty buildings. Why not entrust these buildings to creatives and attract paying customers?
According to the organizers, the last Triennale attracted more than 70,000 visitors and $ 700,000 in ticket sales. They also estimate the income generated by the local economy at $ 4.5 million. Not a bad injection of money for a half-empty part of the country.
I will be an Oku-Noto Triennale life sentence. You can see things you would never have seen otherwise, and you are doing economic good to a struggling region. And now that I've found a way to integrate my phone, nothing is stopping me.
Justin Whittinghill is originally from Owensboro and works as an Assistant Professor of English at the Kanazawa Institute of Technology in Kanazawa, Ishikawa, Japan. His column airs on the last Sunday of the month in Lifestyle. He can be contacted at justinwhittinghill@gmail.com.
Justin Whittinghill is originally from Owensboro and works as an Assistant Professor of English at the Kanazawa Institute of Technology in Kanazawa, Ishikawa, Japan. His column airs on the last Sunday of the month in Lifestyle. He can be contacted at justinwhittinghill@gmail.com.