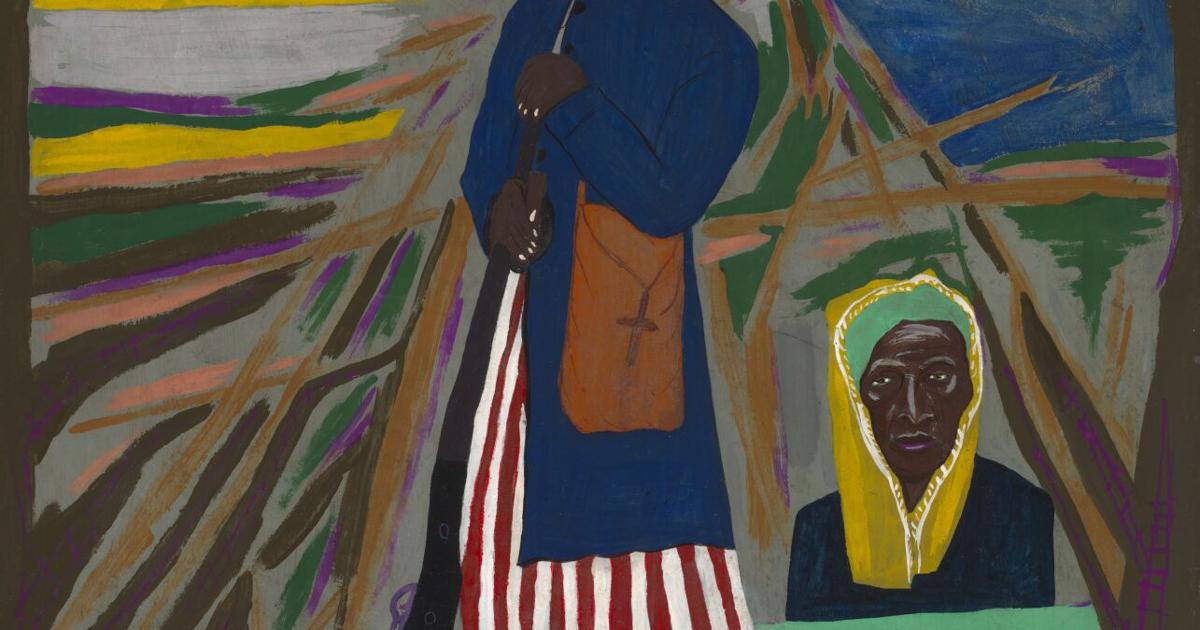 Paintings and modern art in Charleston galleries add new perspectives of racial justice for people of color, Native Americans
Harriet Tubman poses, powerful and patriotic. She is shrouded in red, white, and blue, nonchalantly steadying her weapon. John Brown, thoughtful on his way to the gallows, gently kisses a toddler. Abraham Lincoln stands tall and humble with a Gettysburg Address in hand as war and violence rage around him.
Through the eyes of artist William H. Johnson, those and others who fought for freedom for all are both elevated and elegant. And they come together to form a visual history of this long-running and, yes, ongoing fight – a fight the artist laid down in thick, layered oil, lest we forget.
Now at the Gibbes Museum of Art, "Fighters for Freedom: William H. Johnson Picturing Justice" shares a dazzling collection of 28 of the artist's works, which are on view through August 7.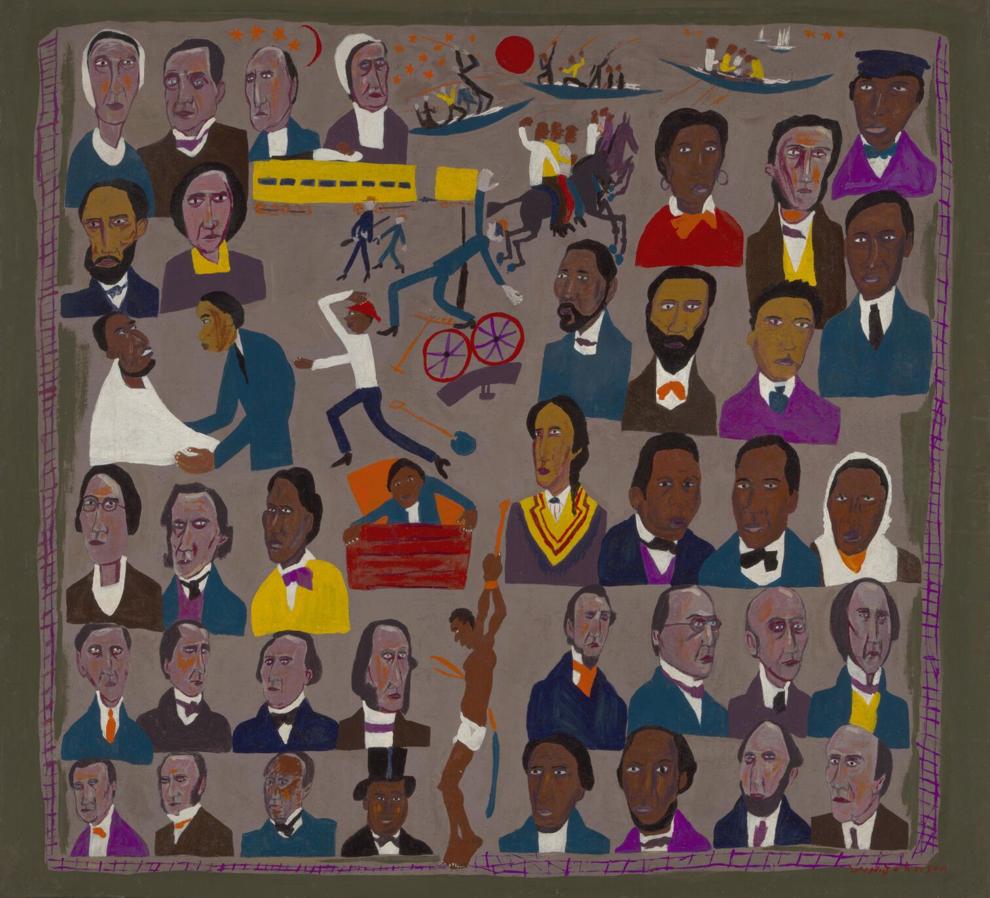 Organized by the Smithsonian American Art Museum, the traveling exhibition brings together paintings created by Johnson in the 1940s. It is the first time that these works have been presented in his home country.
It's a homecoming for Johnson in more ways than one. First he was born and raised in Florence until he was 17 when he moved to Harlem and then to Europe (although throughout his life he continued to visit and creating works in South Carolina). He also returns to The Gibbes, where he holds the distinction of being the first black artist to feature in a solo exhibition nearly 50 years ago.
The Gibbes presents the exhibition in tandem with a related exhibition, "A New Deal: Artists at Work". It includes works from the museum's permanent collection by artists like Johnson, who benefited from the Works Progress Administration's federal art program in the 1930s.
By the 1940s, Johnson had fully embraced folk art. In vibrant hues and with detailed iconography, it has provided rich narrative ground for paintings that pay homage to Black activists, scientists, teachers, performing artists and world leaders who strategized, fought and fought back. sacrificed in the name of world peace.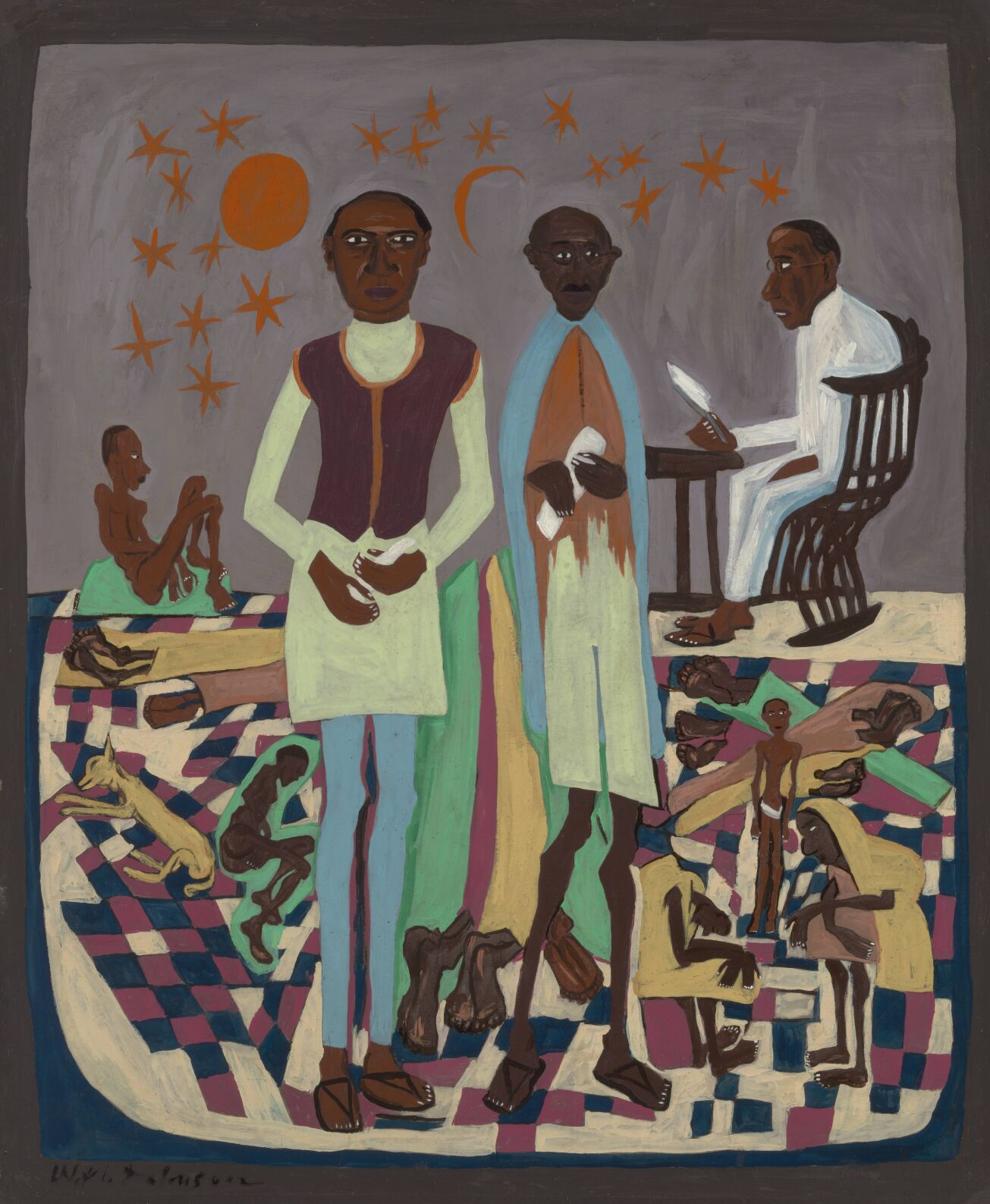 At the same time, the artist never backs down from the brutal truths of his efforts. Nat Turner stands alone in a canvas riddled with crosses, representing those he killed during his rebellion. Mahatma Gandhi stands dignified with Prime Minister Nehru, but around this central portrait he is also shown cowering, emaciated from his hunger strike. A pensive Lincoln towers over, near the hanging bodies of his own assassins, John Wilkes Booth and his three co-conspirators.
Johnson disarms. With its folk art look, it just visually spins a story, mind you, a story that at first glance beckons with its deceptive simplicity. Then it takes you deeper into gleaning those swaying bodies, political maneuverings, and relentless industry of those who care about justice.
Everywhere, flags and buildings telegraph states and places that play a role in each person's story, a visual shortcut to chronicle events. Singer Marian Anderson is flanked by structures like the Eiffel Tower, signifying the countries that have embraced it. Frederick Douglass stands with Lincoln and Brown among cotton fields filled with slaves.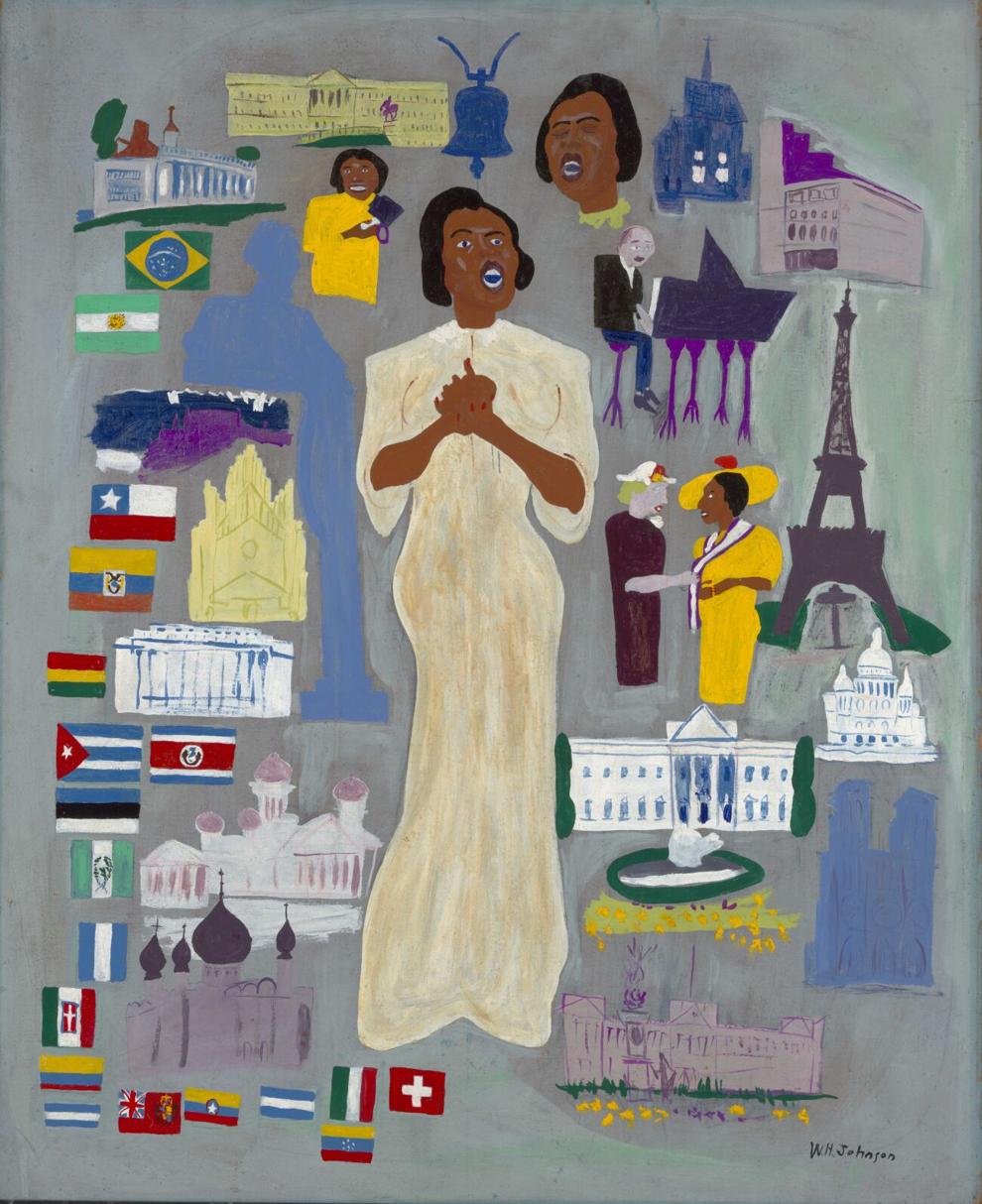 And there are also the papers, the speeches and the writings seized or thrown aside, all the words and all the thoughts which unite in a cause. Haitian revolutionary leader Toussaint l'Ouverture carries the constitution he drafted; Dr. George Washington Carver accepts a page from Edsel Ford, an award.
Within these crafted lines and saturated colors, these characters are in constant motion. They reflect and come together, across races and nations. They sing and starve. They fight and die.
And some of them are artists like Johnson. Take Anderson, the famed contralto who met the censor after being booked for a gig in Washington, DC, then made history performing at the Lincoln Memorial. Singer and civil rights activist Paul Robeson lays claim to another canvas, in which he receives enthusiastic applause from hands of all colors.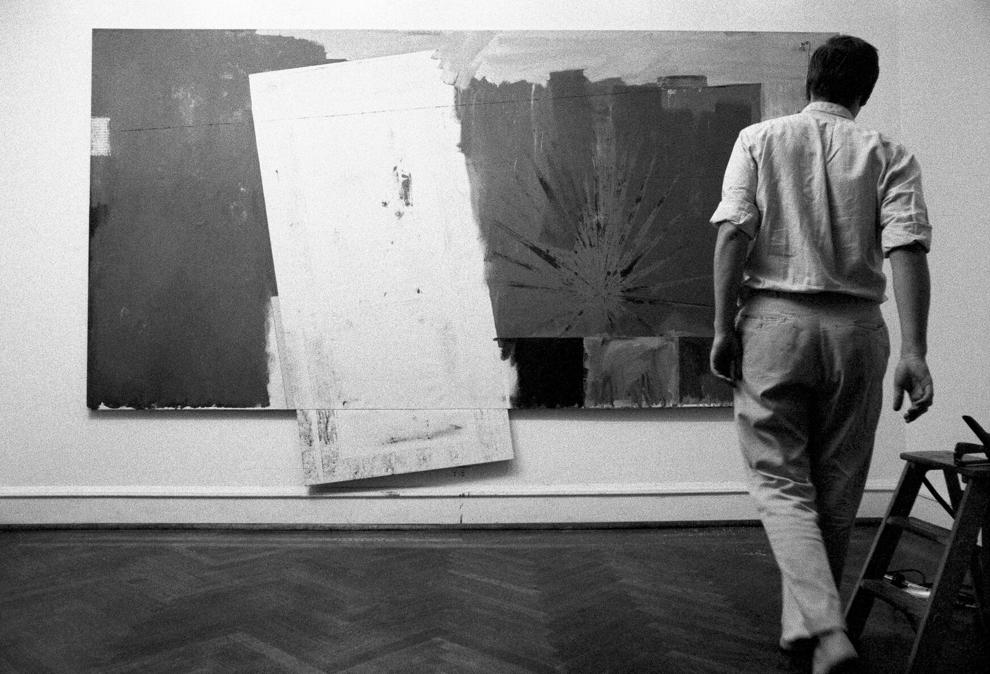 Decades after Johnson laid down his brush, such an artistic impulse to tell stories remains.
Consider the work of Dyani White Hawk, a Minneapolis-based artist from Sicangu Lakota, of German and Welsh ancestry, who draws inspiration from her native culture in her work. Her work is the subject of an exhibition at the Halsey Institute of Contemporary Art, "Dyani White Hawk: Hear Her", on view through February 26.
Here's the thing. With White Hawk, we cannot know these stories. Why? Because we don't understand what they say. White Hawk's work immerses viewers in the world of Indigenous women through the distinct language of each Indigenous woman's nation.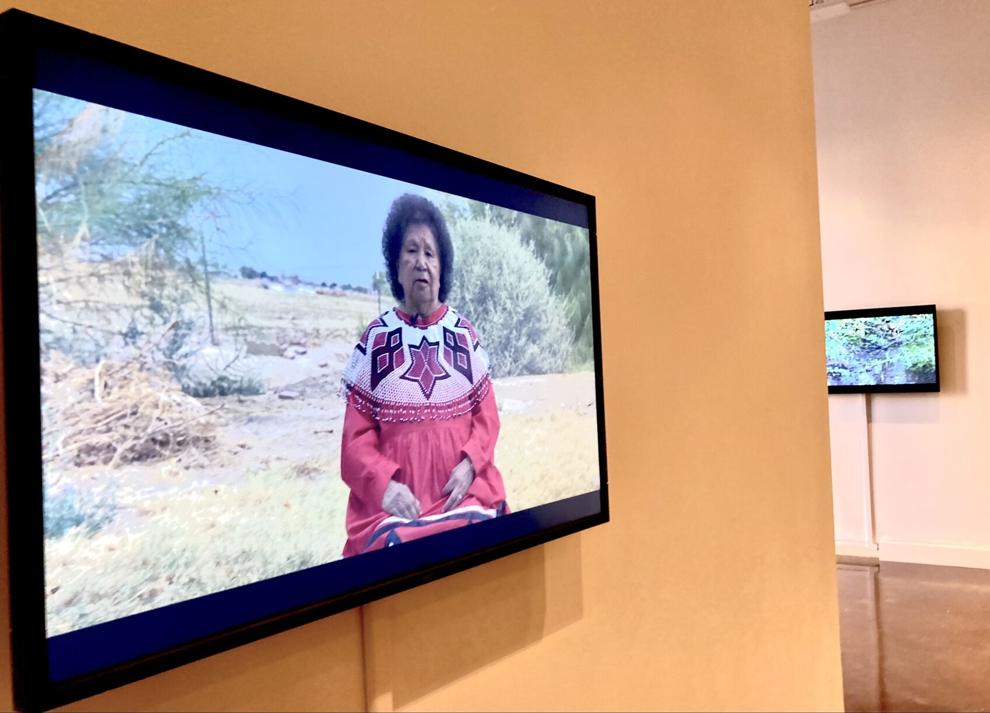 "LISTEN" is a series of monitors placed on the walls of the gallery, each playing a brief video by filmmaker Razelle Benally. Each features an indigenous woman from a different tribe speaking the language of her people, without translation. She is immersed in the land of their nation on a sunny day, from sweeping vistas to hovering dragonflies.
The sounds of nature converge with the cadence of its language. Beginning with the Dakota spoken by Lorraine Ryan German of the Sisseton Whapeton Dakota, Lake Traverse Reservation, SD, viewers scroll through the gallery to the culminating video commissioned by the Halsey which features Beckee Garris of the Catawba Nation at Rock Hill, who speaks the Catawba language.
The listener is then the other, a cultural twist that underscores how little we know about the many distinct languages ​​across this country, or about the power and strength of the women who speak.
The other piece, "I Am Your Relative," begins with a letter from Sash Brown of Santee Dakota commissioned by the artist. It touts women as the heartbeat of Indigenous nations, condemns pervasive stereotypes about them, while emphasizing that we are all bound by our humanity and must take responsibility to stand up for each other.

Six life-size double-sided portraits of Indigenous women stand in the gallery space, each subject wearing a black t-shirt, which collectively make a statement shattering common stereotypes about Indigenous women.
Like Johnson's vibrant portraits, their stories in all their human scale are impossible to overlook. We may not have the language to understand them, but they are definitely there. They have been there for a long time and we do not know them.
For those who want to better understand these stories, both institutions offer further forays beyond what's on the walls to gain such knowledge.
Among the Gibbes' programs is February 17's "Image Matters: Picturing Political and Cultural Leaders," a virtual discussion of the influence of visual culture on how people remember and view contemporary and historical political and cultural leaders. For more information on this and other programs, visit gibbesmuseum.org.
Also on February 17, the College of Charleston's Women's and Gender Studies program will host a virtual discussion around themes explored in "Dyani White Hawk: Hear Her," and will include members of the Catawba Indian Nation, the Pine Hill Indian Tribe, Wassamasaw Tribe and Edisto Natchez-Kusso Tribe, as well as the faculty of the College of Charleston. For more information, visit halsey.cofc.edu/live.