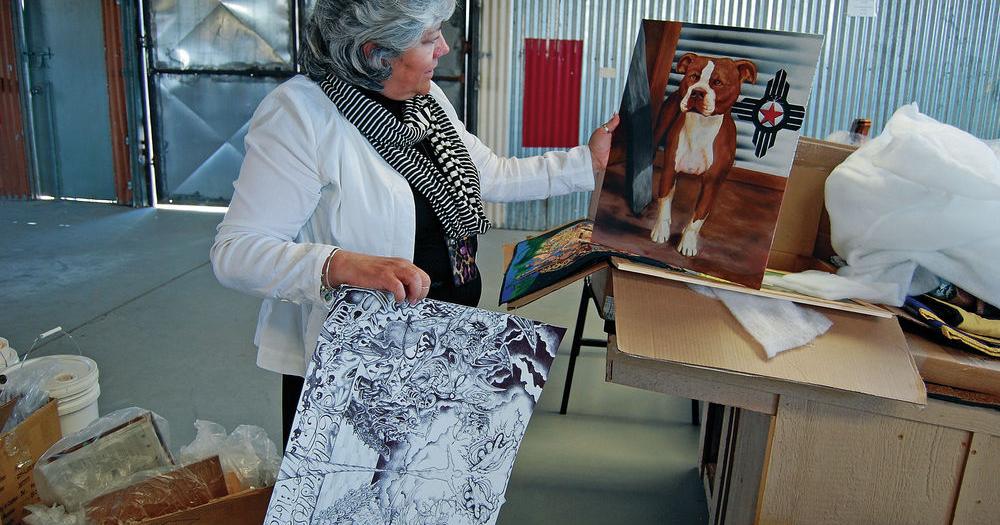 State Inmates Peddle Art at Second Annual Craft Fair | Local News
A flurry of preps in a cavernous warehouse on NM 14 just south of Santa Fe is like those at any other fine arts and crafts show.
There is the smell of fresh paint and sawdust from the workers repairing the sections of the walls where the wares will be displayed. Another team unpacks boxes of carefully crafted products: hand-carved wooden figurines, intricately beaded rosaries, woven rugs, paper flowers arranged in paper vases, intricately crafted ironwork, a range of freshly varnished furniture.
The difference here? The warehouse is on State Penitentiary property and all items for sale were created by inmates from 11 prisons.
Some of the artists themselves will be on hand from 9 a.m. to 4 p.m. Saturday to meet buyers from the public at the second New Mexico Penitentiary Inmate Crafts and Crafts Fair, hosted by the New Mexico Corrections Department. 'State.
The first such event in October raised nearly $17,000, with about 400 inmates participating, department staff said. Anna Martinez, the department's acting director of correctional industries, has watched the goods arrive from all over the state, and she says she expects this second expo to be even bigger.
"Part of the picture is that we have an exciting agenda for inmates, but part of the bigger picture is that they give back to their communities and take ownership of their actions," she said.
Martinez said just over half of the revenue generated from sales at the fair is deposited into accounts that inmates can use to purchase food and additional arts and crafts supplies. Another small percentage is paid into special accounts that inmates designate for a family member.
The remaining 35% is split between a fund under the Criminal Injuries Compensation Board, savings accounts to help inmates pay for housing upon release, and funds for job training programs in each prison. .
Martinez said she was informed by the Otero County Jail Warden that her inmates contributing to the work of the fair had chosen to donate their profits to restitution. The inmates of this prison are convicted sex offenders and are not allowed to attend the fair where the inmates sell their artwork to the general public.
Other inmates also help prepare the warehouse for the event. Information tables are hosted by two inmates from each prison selected by the guards and prison staff members based on their good behavior and their knowledge of the creation of the works.
Martinez said Corrections Secretary Gregg Marcantel is an advocate for prison programs like the Crafts and Trades Fair because of the extensive benefits. He was inspired to start the event after visiting the Angola Prison Rodeo at Louisiana State Penitentiary, an event that also includes an arts and crafts fair.
"A lot of our offenders have been violent at some point," Martinez said. "When they move from violence to patience, creativity, artistry and ownership, it can make prison a safer place."
Additionally, participants gain self-esteem and pride in producing high-quality work and learn entrepreneurial and life skills, she said.
Alex Tomlin, spokesman for the Department of Corrections, said the average inmate in New Mexico enters prison with less than a high school diploma.
"What we've found for ourselves is that sometimes professional training is best," Martinez said. "We can work with our community and put them right back into jobs where they can support themselves and earn a living."
Correction: A previous version of this story incorrectly stated the revenue generated from the October event and the percentage of funds split between the Crime Reparations Commission, inmates, and prison job training programs.