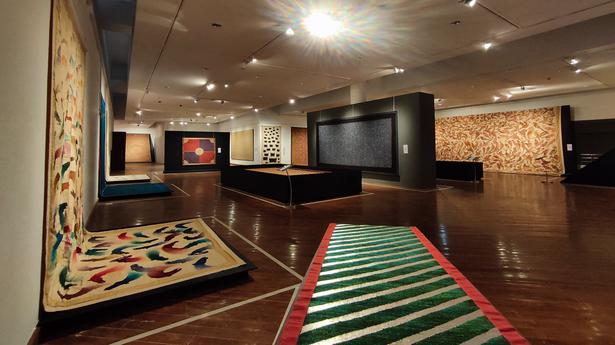 Thumbnail: Visvakarma Textiles is on view at the National Gallery of Modern Art in Bangalore
A curated version of the iconic 1980s exhibit is on display at NGMA in Bengaluru, with a focus on artisans and weavers

A curated version of the iconic 1980s exhibit is on display at NGMA in Bengaluru, with a focus on artisans and weavers

In 1982, India launched an ambitious "India Festival", which highlighted Indian textiles and crafts, at the Royal College of Art in Britain. The following year, in 1983, the then cultural czarina, Pupul Jayakar, and her protege, Martand Singh (both members of the organizing committee), brought the exhibition to New Delhi. Titled 'Visvakarma', after the god of craftsmanship, it comprised most of the 280 works originally sent to the UK. "India had never seen anything like this," says Chennai-based textile expert Gita Ram. "They pushed the limits of what was possible; it was a resurrection, a renaissance, for Indian textiles.
What was cool (if you're from Tamil Nadu) was that 50% of the 'Visvakarma' exhibit was dedicated to 'Pudu Pavu', or state textiles and weavings. The remainder included the rest of the country. Gallery owner and curator Sharan Apparao recalls buying "a lovely Sikalnayakanpet sari from Pudu Pavu" and a kanjeevaram made by master weaver Krishnamoorthy. It also has drawings made by Adimoolam for this "innovative project".
Seen in the light of history, what has been the ripple effect of "Visvakarma" and its creators, Jayakar and Singh? Well, that depends on who you ask. "They emphasized handicrafts, but did not recognize artisans," says Uzramma, a Hyderabad-based textile expert.
Susan Thomas (in white sari) with the tapestry of birds and the pitambaris yellow paithani
| Photo credit: Sanjeev CM

Turning textiles into art

A new exhibition at National Gallery of Modern Art (NGMA) in Bengaluru attempts to correct this perception. It focuses on artisans and weavers and elevates their creations to the rank of art. Entitled 'Thumbnail: Visvakarma Textiles: Art & Artistry', the exhibition is a collaboration between the National Institute of Fashion Technology (NIFT) and the NGMA.
"We were thinking of ways to commemorate our silver jubilee year [2022] and honoring the creation of NIFT," says NIFT Director Susan Thomas in this article. "Thus, we have chosen 25 works from the original Visvakarma exhibition with the intention that they be considered works of art, which they are. The emphasis was on pieces that have an interdisciplinary character.
It was a year-long exercise. The original textiles are spread across museums and weavers' service centers (established by Jayakar in the 1950s), mainly in Delhi and Mumbai. Thomas and his team made several trips to the subways, before narrowing the selection down to 25. Thomas talks about sitting on the floor with his team to hand sew some fabrics to fit the space because you can't run them through sewing machines.
One of the NGMA's exhibits — bulls with their bodies created in flat tints and horns delicately painted with a brush | Photo credit: Sanjeev CM

Such exhibitions have been mounted before, including one in 2018 at the Crafts Museum in Delhi. But what makes the NIFT curation special is the thematic presentation: one that embraces geometry and nature and the push to view weaves as art. Plus, weaver service centers are (and always have been) the unsung heroes of the weaving conversation. 'Vignette' wants to highlight "the prodigious work of the centers as opposed to the personalities around 'Visvakarma'", explains Thomas.
All of the exhibits are stunning and some are paradigm shifters of what is possible with weaves. There is a beautiful paithani in a yellow pitambaris color, one morkuti pichhavai which takes its name from a Vraj village where Krishna is said to have danced like a peacock for Radha. There are also freehand drawn textiles and fine fabrics. kalamkari. The piece de resistance is a giant tapestry that is an ode to Salim Ali, India's late birdman. It is a woven representation of many of the birds featured in his Indian bird book.
Chase the goosebumps

Cartography and documentation of Indian craftsmanship began with Jayakar and the social reformer Kamaladevi Chattopadhyaya. Their writings on Indian craftsmanship were groundbreaking given that we are primarily an oral culture. In 1976 Chattopadhyaya wrote the book, The glory of Indian craftsmanshipfollowed by The earth drum by Jayakar in 1980, which focused on rural rituals. Later, Rta Kapur Chishti and Martand Singh traveled far and wide across India to document its textile traditions. All this came together in the "Visvakarma" exhibits.
A narrative interpretation of the stories of Buddha in kalamkari
| Photo credit: Sanjeev CM

The name comes from an influential article written by Ananda Kentish scholar Muthu Coomaraswamy in his book, The Indian Craftsman, published in 1909, and his subsequent collection of essays, The Dance of Siva, published in 1918. In his essays, Coomaraswamy shared what every Indian weaver or artisan intuitions: "The Indian artisan conceives his art, not as the accumulated skill of the ages, but as arising from the divine skill of Vishwakarma and revealed by him." This is in stark contrast to the Western spirit, which elevates human creators, and also in opposition to today's celebrity culture which promotes individuals over their art.
Read | How Hyderabad-based Chitrika is reinventing handlooms for young people
Whether you think of weavers as creators or mediums, NGMA's creations command attention all by themselves. Catch the artistic works of master craftsman Kailasam kalamkari works and the variety of block-printed designs that are documented on fabric. In Indian aesthetics, it is said that when the rasika meet and love art, they experiment ' roma harsha' (goose bumps). This exhibition offers many encounters of this type.
The Vignette: Visvakarma Textiles: Art & Artistry exhibition is on at NGMA Bengaluru until September 17.
The writer is a Bengaluru-based journalist and author.